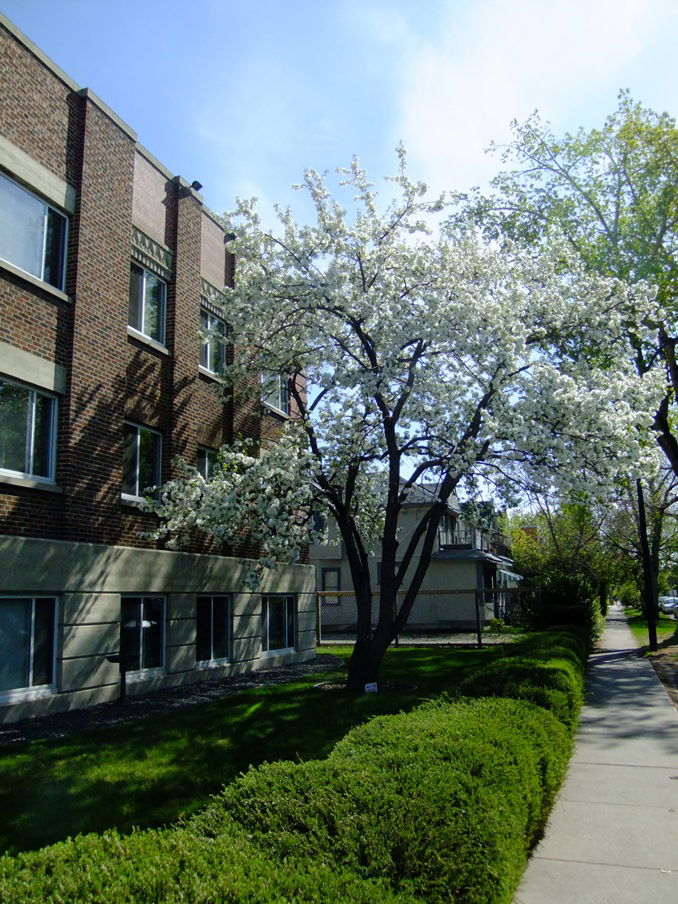 The Athlone is situated on just over half an acre of prime real estate in Calgary's Mission District. The building's unique U-shaped design allows for a generous expanse of lawn. The front of the building is lined by rock mulch and river stone, a carpet of perennial phlox, rundle stone, and numerous evergreen shrubs which shade ground floor suites during the summer months.The east and west sides of the building are flanked by flowerbeds planted with a combination of drought tolerant ground cover and flowering perennials. Edible herbs, arugula and red oak leaf lettuce have also been spotted in one of the beds. Decades-old mature landscaping features include an established hedge, flowering crabapple tree, two lilac trees and five Manitoba Maples.
A gardening design plan commissioned by a local landscape designer is gradually being implemented according to the Corporation's budget. This plan will enhance the beauty of The Athlone's grounds with a view to selecting sustainable, drought resistant plants, and creating an atmosphere of calm in the downtown core.
The gardens are cultivated by a sub-committee of the Board of Directors and resident volunteers. Lawn maintenance and snow removal are contracted out.